August 1998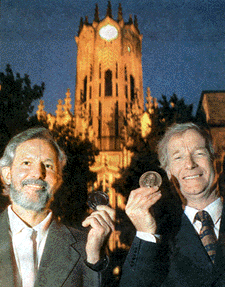 In the Medals: Peter Phillips and Ted Baker bask in the accolades of their scientific colleagues
Boffins Top of Their Class
by Karen Burge
A professor at Yale University who last night was presented with a New Zealand science medal credited his New Zealand schooling with underpinning his achievements.
The Royal Society awards ceremony honoured two New Zealand-educated scientists. Professor Peter Phillips of Yale, in the United States, was awarded a Science and Technology medal for his work in econometrics, and Professor Ted Baker, of Auckland University, received the Hector Medal for leading the field in protein crystallography.
Professor Phillips said his education at Mt Albert Grammar School and Auckland University had given him two rules for life: close enough is not good enough, and even when you do not initially succeed, preserve and strive for excellence.
At school his strengths were classics and mathematics, but his headmaster told him that he would never make a world-class mathematician and classics was a dead end, so why not try economics.
The 50-year-old, who left New Zealand in 1971 after finishing his masters in economics at Auckland, now leads the world in econometrics, the study of statistical relationships in economic data.
He is Sterling professor of economics and professor of statistics at Yale and is alumni distinguished professor of economics at the University of Auckland.
Professor Phillips visits New Zealand about three times a year to work with Auckland colleagues and see family.
Professor Baker was described as one of New Zealand's scientific treasures. The 1997 Hector Medal for outstanding scientific research in chemical sciences recognised his innovation and leadership in studying the relationships between protein structures and functions, including kiwifruit and milk proteins.
With a team at Massey University, his work on the kiwifruit enzyme actinidin has been used by researchers in San Francisco to design anti-malaria drugs.
Professor Baker, aged 55, said he was lucky to enter the field of protein crystallography when it was young.
The professor of structural biology at Auckland University said a lot of exciting research was being (lone, ranging from developing anti-Aids drugs to improving the enzymes used to create stone-washed jeans.